Welcome
Focus Ventures offers unmatched free franchise consulting services that are aimed directly at helping you make the best, most informed franchise decision possible.

We provide complete franchise benchmarking, including total investment, royalties, franchise fee, ad fees, Item 19 (earnings), unit/sales growth and much more. 

We also provide a comprehensive FDD review, including a detailed written report that summarizes in an easy-to-read bullet format each of the FDD's 23 items. We analyze each franchise opportunity's principal business and legal terms and benchmark them against what other franchisors are offering.

No other franchise broker or consultant offers such comprehensive free services.
To get started, call Mike Sheehan at
(703) 372-6241

or send him an email at

mike@focusonfranchise.com

.

What we will do:
Listen to you
Understand your goals and concerns
Structure our advice only in a way that will advance your goals and address your concerns
Act as your coach, not your cheerleader
Provide a thorough and expert review of your FDD
Provide a ready and expert resource for you through every step of your franchise investigation and due diligence
Commit to return any call or answer any email within one hour
Let you sleep better at night
What we will NOT do:
Present a franchise opportunity that we have not thoroughly vetted
Make any sales pitches (we, of course, will make recommendations, but you can be assured that our recommendations will be balanced by highlighting the negatives as well as the positives)
Limit our recommendations to a static or captive portfolio of franchises (we commit to find the best franchise opportunity for you - irrespective of whether we have a current referral relationship with the franchisor offering that opportunity)
Let you down
Our Process. We have pre-screened hundreds of franchises and business opportunities and we will help you select the best opportunities that match your lifestyle, business and financial goals. Focus Ventures will save you time and money and most importantly, match you with the right franchise that best meets your unique personal and professional goals.
We will arrange a phone conversation to gather information about your business goals and preferences.
We will interview you to gather important information to help in our research process in order to identify a franchise that is the right fit for you, your qualifications and specifications.
Once we have the information, we will discuss franchise and business opportunities that match your criteria. These opportunities will be narrowed down to those that you think best fit your goals.
We will identify appropriate franchises and business opportunities and present them to you for your review.
Once you have chosen franchises or business opportunities that you wish to further investigate, we will contact the companies and have them forward the appropriate information and disclosure documents.
We will also place you in direct contact with the appropriate company representative.
We will help you with questions to ask the franchisor, and will be available to you throughout your investigation. Ultimately, it is your job to conduct a complete and thorough investigation. Be assured, however, that we will be with you all the way - before, during and after a decision has been made.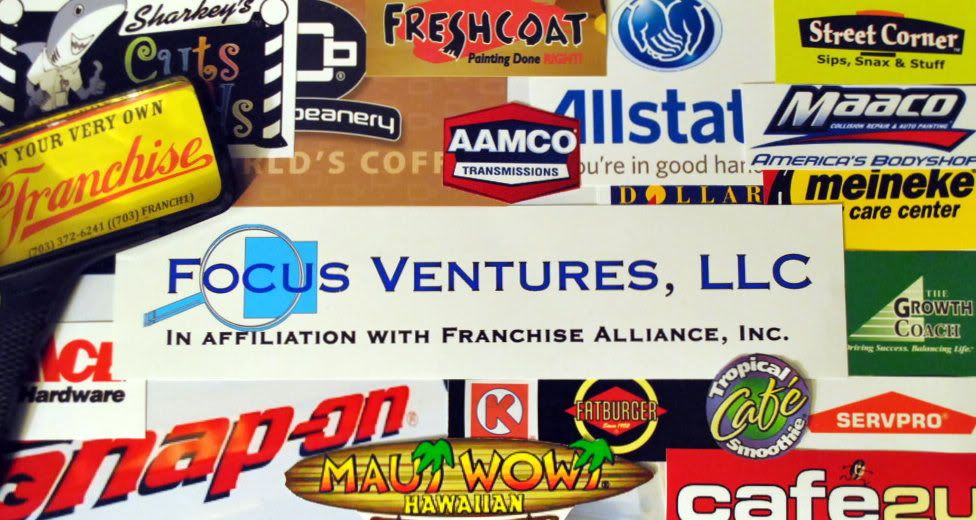 Things to do:
Talk to a franchise consultant. Our service is free. The only "downside" is spending an hour or so on the phone with someone who has broad knowledge of the franchise industry.
Things to avoid:
Focusing on challenges rather than goals.
Obstacles are those frightful things you see when you take your eyes off your goal.
- Henry Ford (1863-1947)
Success usually comes to those who are too busy to be looking for it.
- Henry David Thoreau (1817-1862)
Spending a significant amount of time and effort trying to find the perfect franchise, but never finding it.
Settling for the wrong franchise, when one of their competitors might have been a better investment.
Purchasing a franchise that does not offer adequate training or support.
Performing inadequate due diligence.
Failing to enlist the support of experts (CPA, franchise attorney, franchise consultant) because they can't tell you anything you don't know already or can't figure out by yourself.
A clever man commits no minor blunders.
- Goethe (1749-1832)
PLEASE NOTE THAT THE FRANCHISES LISTED ON THIS WEBSITE ARE ONLY SOME OF THE OPPORTUNITIES THAT WE CAN DISCUSS WITH YOU. I HAVE REFERRAL RELATIONSHIPS WITH MANY OTHER LEADING FRANCHISORS.

Contact Us For More Information
Featured Franchises
Top Picks